Peter Kumar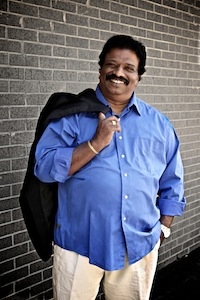 Peter Kumar is a respected minister of the gospel serving the people of God since 1982. He is an accomplished itinerant speaker & author. He has given his life fully to Jesus Christ and to His Kingdom's advancement in the earth.

He is an ordained minister of Antioch International church, Fort Mill SC. He is the founder of Forerunners National changers International, SC, USA. The Forerunners ministry was birthed in Auckland in 1998 . Peter Kumar is passionate about strengthening local churches and he enables church growth through evangelism. He is adept at bringing revelation of Biblical principles that bring multiplication and fulfillment of destiny. He teaches the word with revelation to understand divine promotions in the market place.

While having served about 30 countries across 4 continents, and ministered in large nations such as the United States ,Indonesia and Australia, as well as smaller island nations such as the Cook Islands, by the grace of God, he continues to minister to an individual's personal needs in the body of Christ. He preaches in conferences and in churches large & small, as well as ministers in smaller group sittings that allows for personal interaction. He has had the privilege of serving ethnic groups in the cities across denominations to share the love of God, bringing fresh revelation to the people and a personal word that has blessed thousands

His passion for God and His people drives him to look for every opportunity to strengthen the local churches, and enable church growth through evangelism so that the kingdom of God may grow and Jesus Christ be exulted.

Peter Kumar is a New Zealand citizen,, currently residing in Charlotte North Carolina, USA with his wife ,Geeta. They have two grown up children and his wife serves with him when the opportunity provides itself.
And he will go on before the Lord, in the spirit and power of Elijah, to turn the hearts of the parents to their children and the disobedient to the wisdom of the righeous – to make ready a people prepared of the Lord. ~ Luke 1:17